Western Star All Suites Hotel Carnduff
Establishment and lodging at 121 diamond Rd, Carnduff, SK S0C 0S0, Canada. Here you will find detailed information about Western Star All Suites Hotel Carnduff: address, phone, fax, opening hours, customer reviews, photos, directions and more.
Rating
3.8 /5
Based on 5 reviews
Photos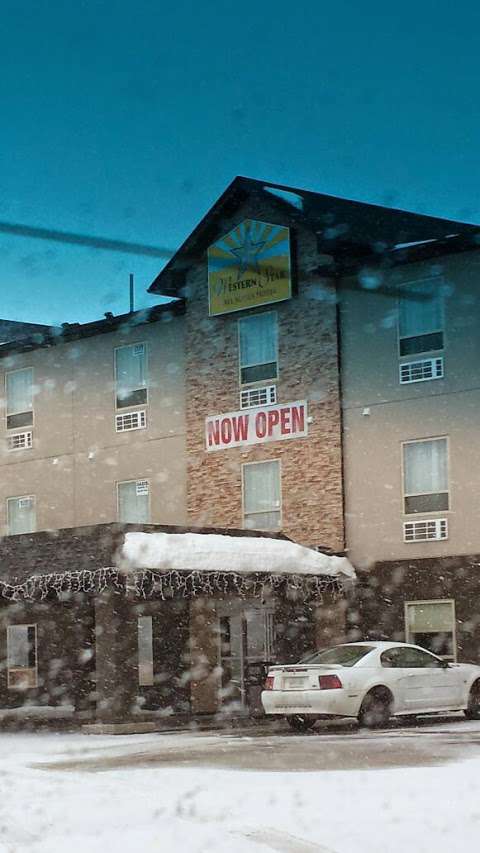 Reviews of Western Star All Suites Hotel Carnduff
Brian deGans Added 2018-11-08

★ ★ ★ ★ ☆

With the drop is oil, what was once a place you had a hard time getting a room at is now mostly vacant, but that's great for those of us who travel for business. The Western Star has full suites, complete stove dishwasher and full size fridge! Host is exceptional and pleasant, always there to help when asked. I really enjoyed my stay!

Chestradamus Teutonic Added 2018-09-25

★ ★ ★ ★ ★

Very friendly staff. Mig was very helpful!

Janet Johns Added 2018-09-20

★ ★ ★ ★ ☆

Hotel has continental breakfast, toast, fruit, yogurt and coffee. Location is good you can see it upon entering Carnduff. It is one street over from highway. Rooms are clean and big. The rooms all come with microwave, fridge, dishwasher, stovetop and toaster. The rooms also have TV and blow dryer. Service is good.

Tony Vu Added 2018-09-18

★ ☆ ☆ ☆ ☆

The only reason I rated one star is there is no zero star. No breakfast.Room is so cold and the tape water color looks like beer.some dogs barking in the hotel. Never back again

David Richards Added 2018-09-12

★ ★ ★ ★ ★

They were amazing. We didn't actually stay at the hotel but were in a car accident nearby and they went and beyond to hemp is out, even though we weren't staying there.
About westernstarhotels.com
Western Star Inn and Suites | Hotels in Saskatchewan
Located in the heart of South Eastern Saskatchewan's Oil Country Western Star Inn & Suites – Carlyle is the only full kitchen suite accommodation in town. We boast large beautifully appointed guest rooms that are perfect for your long and short -term accommodation needs. Relax in our quiet comfort and allow yourself to feel at home with us. Whether you work in the oil field or have an office on the go you will find ample workspace in our rooms at our large desks. You will also find wired and wireless I
Western Star Inn and Suites, Western Star hotels, southeast saskatchewan, saskatchewan hotels, aeroplan rewards, breakfast hotel, laundry facilities, hotel suites with kitchens, cheap hotels in saskatchewan, hotels Carlyle